Work, Digitalization & Sustainability – Hohenheim Summer School 2022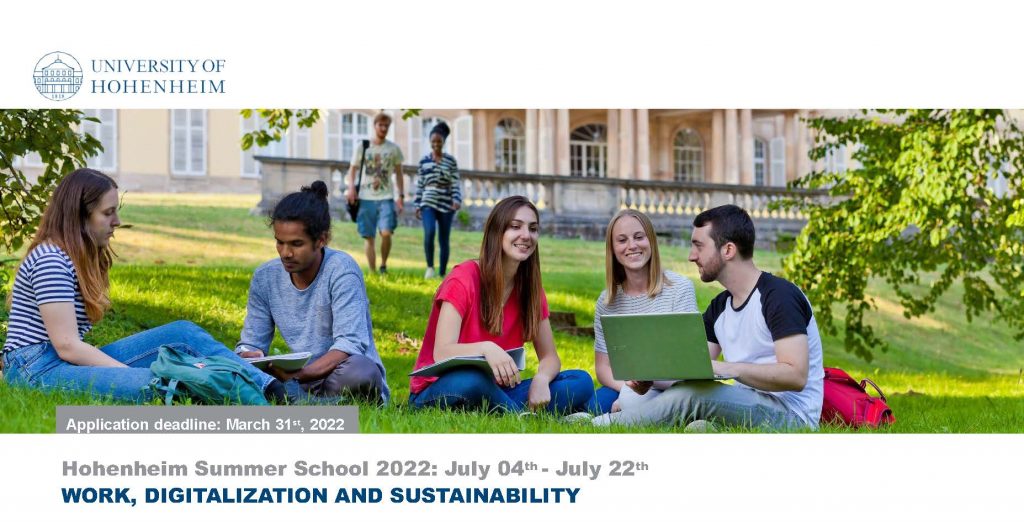 SAVE THE DATE & JOIN THE HOHENHEIM SUMMER SCHOOL 2022!
The world of work is subject to a fundamental change triggered by the megatrends digitalization and sustainability. The Hohenheim Summer School 2022 will provide insights into the interconnection of WORK, DIGITALIZATION AND SUSTAINABILITY. Following an interdisciplinary thinking, the coursework takes the participants through a range of lectures that draws on management science, economics, ethics, psychology, pedagogy and sociology. By visiting the Hohenheim Summer School 2022, participants will gain new insights to understand, critically reflect and manage the current and future transformation of work driven by digitalization and with respect to the ecologic, economic and social dimension of sustainability.
Hohenheim Summer School 2022 on "Work, Digitalization & Sustainability" on July 4-22, 2022! Hohenheim university will be back with a 3 weeks program on campus as it used to offer it before Corona. The staff would be happy to welcome students and can offer tuition waivers for them. The program and more information is now online at https://wiso.uni-hohenheim.de/summerschool and a Flyer_Summerschool_2022 is attached.
Students can apply sending a request to Mr. Federico Franceschini. We would be happy to receive nominations and applications from students until end of May (prolongued date)! Unfortunately, we do not have any scholarships available any longer. If you need further information, please let us know!
If you have any questions regarding the summer school please contact Mr. Lars Banzhaf, wiso-international@uni-hohenheim.de.
---